Swashplate Axial Plunger Motor with Reducer: M2X/M5X-RG Series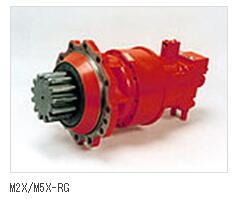 The swashplate plunger motor, developed as a rotary motor for construction machinery, has built-in mechanical brakes, overflow valves and oil filling valves.
Reasonable arrangement of plunger motor part, mechanical brake part and auxiliary valve parts has realized ultra-compact design.
The installation flange of the hydraulic motor adopts a large space, which can be directly connected with the gear ring of the reducer.
M5X is based on M2X technology, compatible with lightweight, compact and improved output power.

| Model | M2X63 -RG06 | M5X130 -RG11 | M5X130 -RG14 | M5X180 -RG14 | M5X180 -RG16 | M5X180 -RG20 |
| --- | --- | --- | --- | --- | --- | --- |
| displacement(cm3) | 1,229 | 2,437 | 2,437 | 3,395 | 4,128 | 4,264 |
| Rated pressure(MPa[kgf/cm2]) | 28.0[285] | 25.5[260] | 30.9[315] | 25.5[260] | 24.0[245] | 29.4[300] |
| Maximum rotation speed(min-1) | 115 | 92 | 67 | 67 | 68 | 66 |