Swashplate Axial Piston Motor with Reducer for Crane Rotation: M2X/MX-RG Series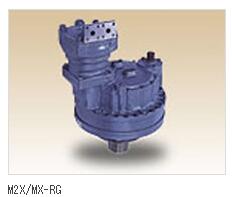 Special brake can be installed (optional).
M2X series reducer adopts the design of shorter axial length.
M2X series is a compact motor used for excavator rotation and has practical results. It has a parking brake in the motor part.

| model | M5X130-RG17C27 | M5X130-RG23C34 | M5X180-RG17C27 | M5X180-RG23C34 |
| --- | --- | --- | --- | --- |
| displacement(cm3) | 3,530 | 4,380 | 4,630 | 5,740 |
| pressure(MPa[kgf/cm2]) | 30.2[308] | 32.2[328] | 23.0[235] | 24.5[250] |
| Theoretical output torque(N•m[kgf•m]) | 17,000[1,730] | 22,400[2,280] | 17,000[1,730] | 22,400[2,280] |
| Special brake mode | Manual brake | Manual brake | Manual brake | Manual brake |